I've wanted a skeleton suit for a long time, but never found one that quite fit my criteria, and I never found (or made) the time to make one myself. I sought a suit that 1) was more cartoony than anatomically correct; 2) was made of regular material, not cheap Halloween costume polyester; and 3) since I wanted a full suit, I wanted the top to just have the ribs and spine (pelvis on the pants). I'm pleased to announce that this year was the year, and, despite how busy things are at work, I eked out the time to execute the concept I'd long envisioned. It turned out great!
First, a note on my inspirations. When I was a kid, perhaps just on the cusp of being too old to appreciate it, I saw the feature-length animation of The Halloween Tree. It was written by Ray Bradbury (who also wrote the novel). It strikes a perfect tone for the changing season: melancholy, mysterious, but also jubilant as the band of young trick-or-treaters set off into the crisp evening. One of the main characters is Tom Skelton, who, appropriately enough, is dressed as a skeleton. Here's how he's rendered in the movie:
A very nice, perfectly-fitting bone suit for Halloween.

In college, I saw Jean Renoir's masterful film The Rules of the Game (1939). Almost everything is perfect about this film. So many of the scenes are staged in depth, photographed with deep focus: what's happening in the background is just as important as what's going on in the foreground. There are love triangles, cases of mistaken identities, and a heartbreaking rabbit hunting scene. In some ways, some of the themes prefigure upstairs/downstairs-like scenarios like Downton Abbey. But the reason why I bring it up here is because there is an exquisite scene--a talent show--where a quartet of people perform La Danse Macabre. Three dressed as ghosts with skeletal-like umbrellas and one in a beautiful skeleton suit. In the scene, there is a particularly amazing shot where the performance is seen very small, reflected in the sliver of a mirror.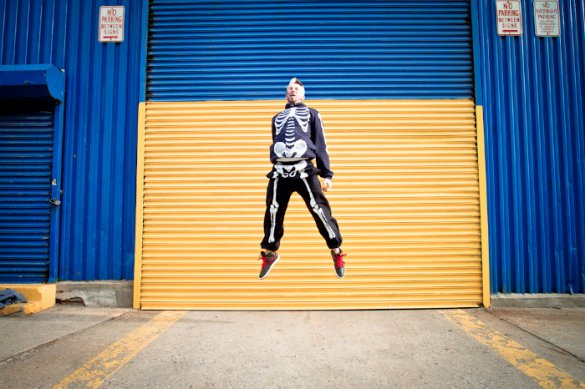 Most Recently, my desire for a skeleton suit of my very own was reinvigorated by the loosely-construed antagonist character "The Creep" in the inspiring music-dance-video film Girl Walk All Day. If you haven't already seen this movie, I might suggest dropping what you're doing and just watching it now. Filmed in and around NYC guerrilla-style (no permits, permissions, or other official stuff), one character, "The Girl," dances around the city, often in opposition to The Creep, who magnificently pursues her and causes mayhem in his delightful skeleton suit. Really: if you haven't seen this film, you may well be missing something that you will love.
So there's a loose genealogy of my bone-suit inspirations, and here's my own attempt (Jordan just wanted the top). I think it turned out great and was so excited to wear it this Halloween season! (photo by Emilie Johnson).